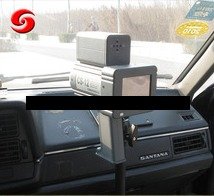 Technical Specifications:
Radar body: measure the actual driving speed of vehicles.
LCD screen: display  calendar, time, current speed, locking target speed, voltage, etc.
Trigger: lock the speed information of the over-speed vehicles.
Power: press for two seconds to power on/off the radar speed meter.
Handle: contain lithium battery pack in for power supply.
Product
Speed Radar Gun for traffic police
Working temperatures
-20°C to 60°C
Radar beam width
±5°
Display area
3.5"TFT
Image solution
320*240
Polarization direction
Linear polarization
Radar work band
K band
Printing connecting
RS-232
Accuracy
±1km/h
Velocity measurement range
10-300km/h
Operating distance
Small vehicles: >500m

Large vehicles" >800m

Weight
1.3kg
Power supply mode
Li-polymer battery pack
Power consumption
6W
Voltage
DC+8.4V