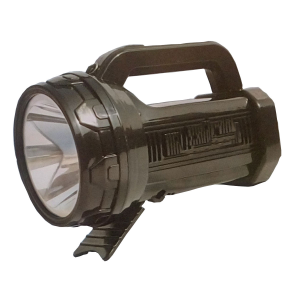 LED SEARCH LIGHT
Model SL- LITE CREE T6 3W high-power LED Operating Range: 300m(Approx)
Powerful Portable Long Range LED Search Light is designed for Perfect Illumination. Conveniently Suitable For Both Long & Short Range.
Features
LED:    3W
Color/Body:    Black /ABS
Dimensions:    215x130x145mm
Weight (Approx):    910gms
Range (Approx):    300m
Charging:    A/C Mains 220V 50Hz
Battery:    2 Nos. Lithium
Battery Charger:    Inbuilt Charger
Charging Time (Approx):    10 hrs
Solar Charging:   Optionally Available
Operation Modes:    Strong -Super Strong
Operation Time ( Approx):    8Hr
Handle:    Handle is integral part of the Body
Water Resistant:    Yes
Adjustable Shoulder Strap:    Yes
Adjustable Flap Stand:    Provided.