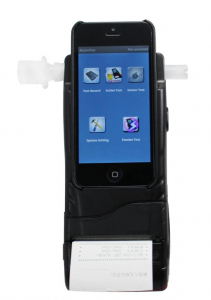 Specification:
1. Integrate with iPhone 3G/4G communication / Android protocol.
2. Dual Display: Color display with touch panel. (with iPhone display).
3. Built in thermal printer.
4. Quick and precise analysis: Ensure a high sensitivity to alcohol and stable & reliable working life
5. Data download: PC down via USB port.
6. Mouthpiece: Easy to replace a new mouthpiece by pressing a key, patented convenient and hygiene.
7. Power supply: Rechargeable 7.4V Li-ion battery.
8. Auto flow monitoring: Flow detect automatically.
9. Unit setting: mg/L、mg/100mL、%BAC、‰BAC.
10. Display range: 0~0.4% BAC or 0~4.0‰BAC or 0~2.0mg/l.
11. Long Term Storage condition: Temperature: 0 Degree C to +55 Degree C..Humidity: 30 to 90% RH
12. Operating Temperature: From -20℃ to +45 ℃, ( 5℃ to +40 ℃ for optimum operation)
13. Memories: Min. 50,000 memories with full information:- Drive name, vehicle no., inspector name, test result with time stamp, date and time, location, instrument no., Calibration date, test no. etc…
14. Measurement precision: Standard deviation +/–0.025 mg/L or +/–5 % of the measurement Drift: typically < 0.8 % of the measurement value/month
15. Data management software: Can export the files as Microsoft Excel documents directly.