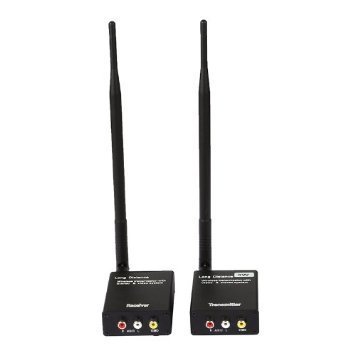 Audio Video Transmitter up to 500Meter
This product is for personal and professional use. The product is absolutely new and in working condition.
Feature:-
Transmitter power: 3W.
Effective range: Up to 500meter line of sight ( Open Environment). range vary depending on the obstacles
4 channels provided as options to ensure clear reception of video and audio.
Stereo audio function: Perfect for using with DVD, camcorder, satellite system, or stero.
Wide band characteristics of fine audio and video receive quality.
Good microwave anti-interference performance.
Transmitter can connect any AV devices such as CCTV camera, VCR Recorder, DVD player, Video camera e.t.c.
Low power consumption, high sensibility.
Easy operation & installation.
Audio modulation: FM.
Signals transmitted: Video and Audio.
Hi-efficiency and special antenna.
Input and output: RCA Jack for Video and Audio.
Power on LED indicator.
Body: All metal with metallic paint, rust resistant.
Power source: DC9V/12V 1A.
Specification of Transmitter:
Channel: 2.4GHz, Channel switchable 2.410G/2.428G/2.446G/2.462G
Power Consume: 3W
Video System: PAL/NTSC
Voltage:DC 12V 1A
Support:2 channel Audio 1channel Video
Specification of Receiver:
Channel: 2.4G PPL , Channel switchable
Frequency: 2.4GHz
Voltage: 12V 1A
Applications:
It transmit AV signals by means of radio waves and can be used for wireless sharing of AV signals of DVD,DVR,CCD camera,IPTV,satellite STB,digital TV STB and other AV devices of several TV sets
Wireless AV transmission solutions are suitable for large video meeting systems and multimedia class rooms
With an external CCD camera, it can realize real-time field image monitoring in applications such as security system
It can also be used in AV transmission applications where the AV cabling is difficult or expensive