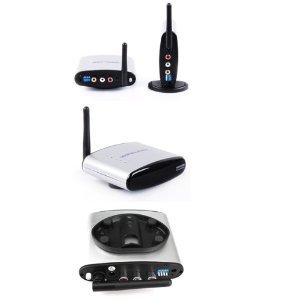 Transmit AV signals of DVD, DVR, CCTV Camera, IPTV, satellite set top box, digital TV set-top box and other similar devices, by means of radio waves and receive them at distant end and input them to a TV set to be displayed.
Enabled you to easily realize wireless sharing of HD AV data and enjoy untrammeled hi-fi audio and visual effects.
Function & Features:
Multiple selective channels supported for anti-interference from wireless.
Keep transmitter and receiver setting at the same channel, it can support 1 transmitter and more receivers at the same time.
Support DVD DVR IPTV CCTV Camera Satellite receiver digital STB and other AV output devices.
Full hardware design without installing any software plug and play, simple and convenient, Fashionable design.
RF modules are FCC and CE certificated. wireless application is safe and reliable.
The IR remote controller can be used at the receiving end to realize the function of wireless control of devices from another place.
IR Extender: 433.92MHz Super heterodyne
Features:
Long distance wireless video transmission.
Strong anti-interference, multiple sets of channel selection to avoid routing wireless signal interference.
A wireless receiving image clear and stable, colorful, clear sound quality without noise.
The hardware design, without software, no wiring, easy installation, plug and play.
Specifications:
Machine dimensions: 10×8.5×3.0cm
Power input: DC 5V=1000mA
Video input: 1Vp-p(PAL/NTSC)
Audio input: 1.5Vp-p(dual channel)
Audio output: 1Vp-p(PAL-NTSC)
Audio output: 1.5Vp-p(dual channel)